Emerging technology and the candidate experience: Are applicants and HR on the same page?
A critical area of interest for HR professionals and recruiters is the "candidate experience"; defined as the collective result of engagements, assessments and interactions that organisations have with candidates during the hiring process. Research by the Talent Board has identified that improving candidate experience is the top goal for recruiters in 2019. The importance of this issue is not limited to missing out on high potential talent but can impact financial business outcomes, for example Virgin Media estimated that they lost £4.4 million in revenue in 2014 due to poor candidate experience.
In a world where your best candidates are applying to a greater number of job roles and receiving offers from several organisations, the difference between a good candidate experience and a bad one could be the deciding factor in their choice of employer. To add to this, evidence from tracking websites show that candidates are not paying too much attention to the brand content before hitting apply and starting the assessment process (Oleeo, 2019). This applicant behaviour suggests that the content of the assessments themselves are even more important when considering the candidate experience.
We've enquired a group of candidates who had recently gone through an assessment process, in order to understand what exactly do they want from the assessment process and what might improve candidate experiences.
Candidates were asked:
"How comfortable are you with using each of the following in general?"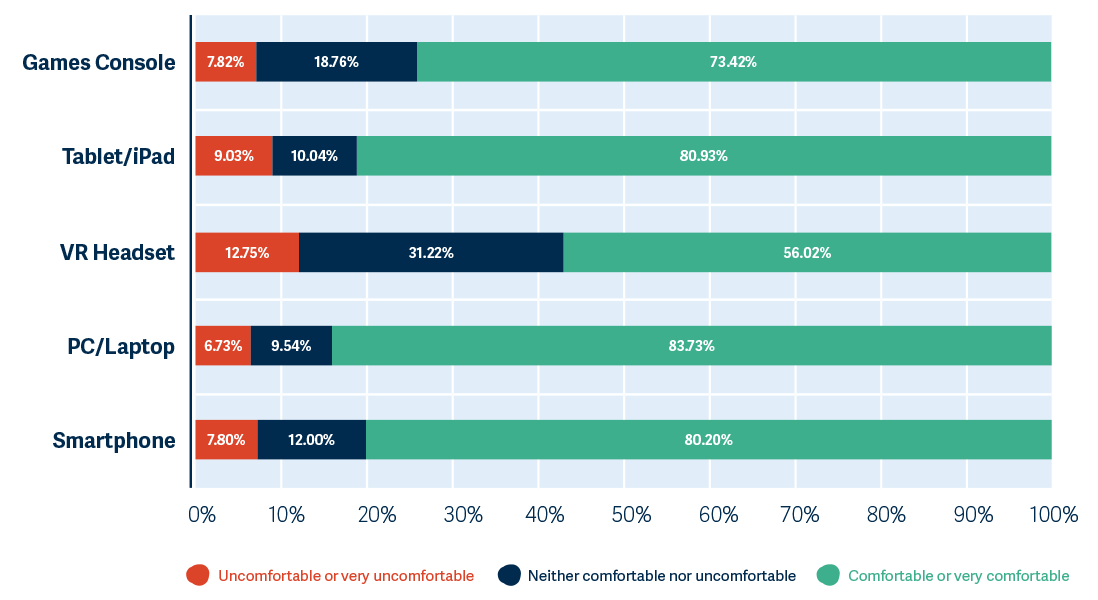 Generally, candidates indicated that they were less comfortable with using VR headsets compared to the other device options. However, candidates did not provide responses that were more strongly negative, instead opting for more neutral responses. Other than that, candidates reported being mostly comfortable or very comfortable with all the other devices listed.
This information is useful as a benchmark for the following set of data, which explores candidates' comfort levels with the same devices for online assessment.
Read more
Authored by: