TIP SHEET: Creating a Positive Candidate Experience
In recent years, candidate experience has become one of the most important features in designing and implementing an employee assessment process in organizations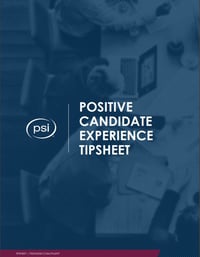 .
PSI will be hosting several sessions at SIOP related to this topic.
A job candidate's impression of, and experience in the hiring process is essential to consider when evaluating and creating your hiring process. So, how do we not only hire those who will perform well in the job, but also bring joy to our candidates during the hiring process?
Learn more by downloading this tip sheet.
Simply complete the form to gain access to the resource.